Project: Lochinvar delivers heat pump package for historic London school
Key equipment supplied
Lochinvar has worked in close collaboration with building services consultancy Ingleton Wood to provide a high performance, energy efficient, complete system solution for the refurbishment of an historic London school.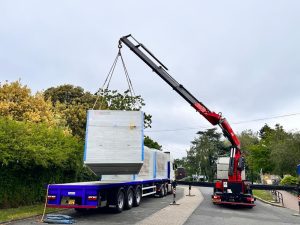 Christ's College in East Finchley can trace its origins back to 1842 when it was founded as a school for boys by a congregationalist minister Rev Watson. It later merged with Finchley Hall School – itself founded by a church group in 1857.
Today it is a secondary school with academy status and since 2002 has offered education to both girls and boys. It has 860 pupils and specialises in Maths and Sciences – it moved to a new site in 1991.
As part of a modernisation programme, the school management sought to upgrade the heating and hot water systems in a way that was sympathetic to modern low carbon and energy efficiency standards. This led to the specification by Ingleton Wood of four Lochinvar Amicus HT (high temperature) heat pumps complete with factory-fitted hydraulic kits and supported by a LBT thermal store with hot water storage capacity of 2,000 litres.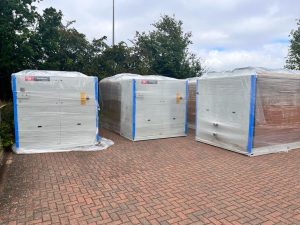 Lochinvar also provided three Squire indirect water heaters and two EFB wall hung, gas-fired condensing boilers as back up to the heat pumps for times when demand is high – or to provide continuity of hot water supply in the unlikely event of a heat pump failure.
Whole system
Ingleton Wood selected Lochinvar because of its ability to provide a whole system solution and to take advantage of its technical support including the on-site visits it provides with every heat pump installation. The system was installed by the contractor JC Gas with Lochinvar providing commissioning support.
Amicus HT heat pumps employ the innovative principle of Enhanced Vapour Injection (EVI) to improve output and efficiency. This is a two-stage compression process with inter-cooling that produces a superheated vapour that boosts capacity and efficiency. As a result, Amicus units can achieve a Coefficient of Performance (COP) up to 4.4 and are 25% more efficient than standard scroll compressor driven systems. They are also capable of operating in outside temperatures as low as minus 20degC.
Amicus heat pumps can be used as stand-alone replacements for conventional heating products or as part of an integrated system providing pre-heated feed water to gas-fired condensing boilers, water heaters and thermal stores in buildings with large heating or hot water demands making them ideal for school and college campuses.
Lochinvar's LBT storage vessels are manufactured from mild steel and have multiple connections enabling them to accept energy from different heat sources simultaneously, so they are ideal for heat pump or hybrid systems. They come complete with pre-fitted insulation up 100mm thick, which exceeds the requirements of the Building Regulations and means the stores experience low standing losses, further improving the efficiency of installed systems.
Lochinvar now holding a comprehensive stock of heat pumps which are available to view online and ready for immediate dispatch. View the live stock list here.