Electric
If you're designing a hot water solution where you are limited by new regulations that are meant to reduce our carbon footprint, in locations where conventional fuels are not available, or where you choose for ease of installation, we offer you a range of electric water heaters. Our range consists of 7 models with a very compact design. With a capacity of 115 to 450 litres and a relatively high power rating they are very suitable for domestic, commercial and industrial applications.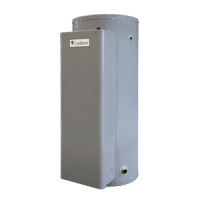 View details
Gas condensing
We have a wide range of water heaters which employ condensing technology; which can provide savings on energy consumption and carbon emissions. Our range includes instantaneous, storage and circulating types, with floor-standing and wall-hung options.
Gas standard efficiency
These water heaters are designed on the principles of low storage and fast recovery, and when compared to indirect hot water systems, they can achieve savings on energy consumption & carbon emissions.
Indirect / Calorifiers
In addition to our established gas water heaters, we also offer a range of indirect solutions, including indirect hot water storage calorifiers. We have a range of options including single coil and twin coil models. These products can be used as part of a heating boiler installation to provide domestic hot water, or can be used as preheat vessels when installed on a renewable project. We also offer a range of packaged plate heat exchangers, which can also be installed with one of our direct storage vessels for peak demand applications. Our Indirect water heater/calorifier products are suitable for a range of commercial and industrial applications.
Storage vessels
Also referred to as direct storage vessels, these  products are specifically designed for use with circulating-type water heaters such as EcoKnight, EcoForce and TTW. They can also be used as supplementary items with traditional storage-type water heaters such as our EcoCharger and EcoShield models, or our LOK Packaged Plate Heat Exchangers and can be considered for applications which are subject to particularly heavy peak hot water demand.