Project: Glasgow hotel gets 5-star heat treatment from Lochinvar
A brand new 4-star hotel in central Glasgow is benefitting from a comprehensive Lochinvar heating and hot water package of heat pump, boilers, storage vessel, and water heaters.
The Maldron Hotel in Renfrew Street is just a short walk from both of Glasgow's major rail stations – Central and Queen Street – and a 15-minute drive from Glasgow International Airport. It is just minutes away from the city's famous Sauchiehall Street shopping area and next to the Buchanan Galleries.
The towering £40 million 300-room development is the first foray into Scotland for the Irish Dalata Hotel Group and, since it opened last summer, its distinctive brown and beige façade has already become a noticeable local landmark.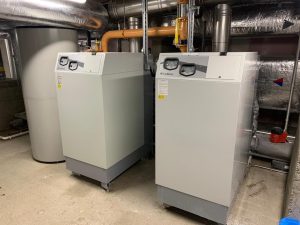 Such a large, modern structure demanded a state-of-the-art heating and hot water solution – and the owners were also keen to achieve high efficiency performance with minimal carbon emissions while still delivering the high volumes of hot water on demand needed by such a busy and high spec hotel.
As a result, Lochinvar was specified to provide a package consisting of air source heat pump and buffer vessel supported by two TTW water heaters delivering heating and hot water at minimal energy use and low carbon footprint, but still with fast recovery rates to meet demand.
Hybrid
The Amicus LT heat pump is ideal for operating as part of a hybrid system, such as the one specified by the Maldron Hotel team. The heat pump delivers low temperature hot water and operates at a coefficient of performance (COP) above four so providing the client with significant energy savings and reduced carbon emissions.
It works in tandem with the TTW floor standing water heaters, which are circulating-type models with heat exchangers constructed from stainless steel so are ideal for providing high volumes of hot water on demand at any time of the day and night – a key requirement for most hotels.
The Lochinvar EFB condensing boilers that serve the hotel's air handling plant and over door air curtains. As well as being highly energy efficient, are classified as ultra-low NOx, which is another benefit for a client keen to minimise environmental impact. They produce NOx emissions below 24mg/kWh, which means all EFB models qualify for the maximum two credits awarded for air quality on BREEAM-rated projects. They also incorporate a high-quality, stainless-steel heat exchanger, which is supported by an extended warranty.
Another demand on the specification, which was led by the hotel chain's consultant Sam McVicker from Caldwell Consulting Engineers in Belfast, was the need for the products to be compact to fit into restricted plant space. This proved to be another benefit of the Lochinvar packaged approach as it afforded the installation team, headed by Michael McGoldrick of FG Mechanical Building Services on behalf of the main contractor McAleer and Rushe, maximum flexibility when it came to manoeuvring and positioning the equipment.
Do you have a project you would like to discuss with us? If so head over to our Sales Team contact page to get in touch with your local Area Sales Manager.