Engie FM and Lochinvar keep museum on track
Key equipment supplied
2 x EcoCharger ECH87-480GCE Water Heaters
2 x Concentric balanced flue assemblies
Project details
Installation of two condensing high efficiency gas-fired water heaters, replacing existing atmospheric/non-condensing models. Concentric room-sealed balanced flues were installed on each of the new water heaters in place of the previous conventional flue
Description
Leading energy and services provider Engie FM have installed new Lochinvar condensing water heaters as part of an ongoing refurbishment of one of the UK's busiest museums.
The National Railway Museum in York is home to a collection of more than 6,000 historical objects telling the story of Britain's railway innovation. These include 100 historic railway vehicles such as Mallard, Stirling Single, Duchess of Hamilton and a Japanese bullet train. It won the European Museum of the Year Award in 2001.
The museum, which is the largest of its type in Britain and attracts more than 750,000 visitors every year, began a major refurbishment programme in 2019 to improve facilities and access.
Lochinvar provided two EcoCharger gas-fired condensing water heaters along with ancillary equipment to replace two atmospheric gas-fired models that had been operating for almost 20 years. The new heaters were installed in the plant room serving the museum's Great Hall and now provide hot water to the conference centre, kitchens and toilets.
The installation of two condensing high efficiency gas-fired water heaters was due to the fact that one of the old water heaters had failed beyond repair, but the original installation made replacing it very challenging because of the configuration of the conventional flue system. However, by using Lochinvar's concentric room-sealed balanced flue assemblies, the project team were able to find a solution and the EcoCharger heaters have been re-positioned to allow for easier access and ongoing maintenance.
Installation flexibility
Concentric room-sealed flue is one of three options available with EcoCharger water heaters and is popular because it provides excellent installation flexibility. With flue runs of up to 40m available, it can be ideal for awkward replacement projects like this one and can often provide a good alternative to conventionally flued installations.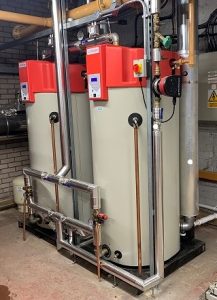 A like-for-like replacement was originally considered and would have complied with Building Regulations. However, Engie FM, who designed and installed the project led by its technical operations manager Lee Oldham, wanted a more energy efficient solution that would help the museum lower its carbon emissions and cut long-term running costs.
"We were very keen that the replacement water heaters should be 'future proofed' against planned changes to Part L 2B of the regulations," said Mr Oldham. "It also helped that EcoCharger water heaters are included on the Carbon Trust Energy Technology List (ETL).
"We have worked with Lochinvar on a number of projects now and have been delighted by their product quality and reliability as well as the customer service they provide."