Key Equipment Supplied – Litcham School
Key Equipment Supplied – Fakenham Junior School
Project Details
The government is committed to making all schools in England net zero in operation and has pledged to reform the national curriculum to give children new ways of learning about the environment, the climate crisis and sustainability.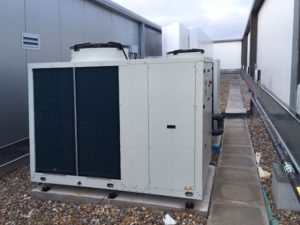 Lochinvar has already seen this strategy in action through its involvement with a group of schools in Norfolk who have invested in low carbon technologies as part of comprehensive retrofit programmes.
Litcham and Fakenham Schools have opted for Lochinvar air source heat pumps to replace ageing gas fired boilers to reduce energy consumption and improve sustainability.
Both schools are part of the Synergy Multi-Academy Trust, which includes 15 schools across Norfolk, serving children between the ages of two and 18. The Trust, which was set up in 2015, states that it aims to improve all its schools "through sharing expertise and wisdom".
"The Trust understands that there will be excellent practice in each school, and that every school will be able to contribute to the development of the Trust as a whole."
Funding

It has initial plans to retrofit five of its schools and has been able to access funding from the Salix Finance programme which provides interest-free government funding to public sector projects that improve energy efficiency and cut carbon. Each school will be able to share lessons learned from the projects with the rest of the Trust.
Former Education Secretary Nadhim Zahawi said education was one of "our key weapons in the fight against climate change".
"It should not come as a surprise to anyone that young people are already very committed to a more sustainable planet. We should be proud of this, and I want to do everything I can to encourage this passion so they can be agents of change in protecting our planet," he said.
Being able to see engineering solutions in action in their school buildings is a key part of the strategy to inspire children to take an interest in the practicality of achieving net zero emissions. Lochinvar's Amicus heat pumps at Litcham and Fakenham Schools are part of a total retrofit which also includes new lighting, windows, insulation, and voltage optimisers to improve building performance.
The work at Fakenham School also involved locating a new LV supply and substation to help power the school with heat pumps. Both projects were led by the building services contractor Eyre Group who designed, specified, and installed all the systems.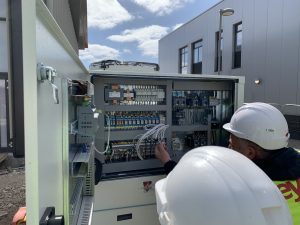 Lochinvar was chosen both for its Amicus heat pumps and full system components and for its technical support and after-service. It includes three free site visits with every heat pump specification to help the installation team with upfront design followed by full system commissioning and ongoing support.
"Lochinvar's technical know-how and start to finish support played an important part in our decision to specify Amicus heat pumps," said Eyre Group director Jamie Thwaites. "Having worked with them before, we were confident we could rely on Lochinvar's team to support the overall project design with the right technical detail and that our solution would be tried and tested.
"The Synergy Trust and other local academies aim to roll out low carbon building services solutions across several of its schools so it was especially important that we were able to demonstrate that our ideas would work in practice," he added.
"Lochinvar played a crucial role in supporting our design and preconstruction teams, proving that heat pumps will play an increasingly important role in reducing carbon emissions and making school buildings more sustainable for the long-term."
Do you have a project you would like to discuss with us? If so head over to our Sales Team contact page to get in touch with your local Area Sales Manager.