Lochinvar Ltd have announced the appointment of Paul Mitchell as Area Sales Manager for the West Midlands Region.

Paul has extensive experience of the industry having worked at Lochinvar since 2009. Prior to joining Lochinvar Paul worked as an M&E Contracts Manager and also as a Design Engineer at an M&E consultancy.
Paul joined Lochinvar as a Product Manager and has spent the last 12 years as Service Manager, taking care of customers and ensuring technical excellence across the business.
Commenting on the announcement, Liam Elmore, Sales Director at Lochinvar said; " We are going through a busy period at Lochinvar and it was crucial that we appointed someone able to hit the ground running. Throughout his career, Paul has worked within the industry and most importantly with our customers. I have every confidence that Paul will continue to be a great asset to Lochinvar and our customers".
Paul joins newly appointed Area Sales Representative, James Stiff who is responsible for the Cotswolds & South Wales Region following July's announcement that Steve Ingram will be stepping away from his role as Area Sales Manager for the West Midland & South Wales.
Asked about his new role, Paul Mitchell commented; "It's an exciting time to be at Lochinvar and I have thoroughly enjoyed my time with the business to date. My new role as Area Sales Manager will give me the opportunity to get out and see our customers in person. I have a great relationship with our customers and I'm looking forward to making use of my technical and product background to help them with their requirements."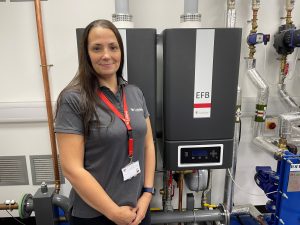 As a result of Paul taking on the role of Area Sales Manager Abby Dedman, previously Technical Support Representative, will now become Service Manager.
Will Griffiths, Technical Support Manager commented; "Abby has been working within the Technical team at Lochinvar for seven years and I am delighted that she will be stepping up into the role of Service Manager.
Having myself joined the business in March this year it is very apparent that Abby is a highly valued team member and I wish her every success in her new role".
Paul Mitchell will be responsible for the following postcodes DY, WV, WS, WR, B, CV whilst James Stiff will be looking after CF, SA, NP, GL, HE and OX.
Paul will be reaching out to existing customers to introduce himself. Should you wish, you can reach him directly on pmitchell@lochinvar.ltd.uk or 07966 288 780.