Lochinvar have announced that Steve Ingram will be stepping away from his role as Area Sales Manager for the West Midlands & South Wales Region.


Steve joined Lochinvar in 2002 and over the past 19 years has been instrumental in the success of Lochinvar. Steve has been a popular figure within the business and is renowned by both his customers and colleagues as a talented and tenacious professional.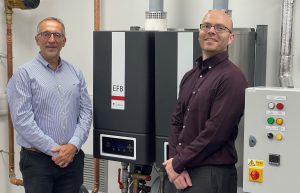 Steve will be seeing out the remainder of 2021 with the company before handing over the reins to newly appointed Area Sales Representative, James Stiff.


Many people in the industry will already be familiar with James who joined Lochinvar in 2016 as part of the Internal Sales Team. James brings a wealth of technical and sales experience to the role and will be working closely with Steve to ensure a seamless transition for the rest of 2021.


When asked about his time at Lochinvar Steve said; " I have had a fantastic 19 years at Lochinvar and it's been a privilege to be part of the team. Working within the same areas throughout my time at Lochinvar has not only allowed me to make many valuable professional contacts but also some great friends. A big thank you to my customers, colleagues and contacts for making my time at Lochinvar so enjoyable.


The management team at Lochinvar have a fantastic succession plan in place and I will be fully supporting James in making a success of his new role."


Commenting on the announcement, Liam Elmore, Sales Director at Lochinvar said; " It's been a pleasure to work alongside Steve Ingram at Lochinvar and he has been a tremendous asset to the team". I wish Steve all the best for the future and look forward to seeing him on the golf course soon!"


Liam continues; "As a result of Steve leaving the business, we had to put real thought into how to fill such big shoes. In September this year we will be welcoming a new Area Sales Manager to the West Midlands territory to work alongside myself, James and the rest of the team to ensure we are able to provide the high level of service our customers expect from Lochinvar".


Customers wishing to contact Steve can do so in the usual manner. James Stiff will also be reaching out to existing customers to introduce himself. Should you wish, you can reach James on jstiff@lochinvar.ltd.uk or 07929 653 992.