Lochinvar has unveiled a new range of high temperature R290, air-to-water heat pumps capable of producing hot water up to 70degC while still achieving high energy efficiencies and reduced environmental impact.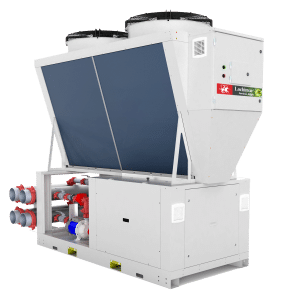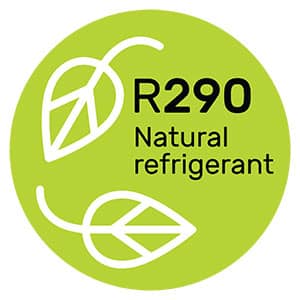 The new Amicus Altus is available in three potential configurations: Two-pipe heating only, two-pipe heating or cooling, and four-pipe simultaneous cooling with heating and heat recovery making it suitable for most types of commercial project.
The high temperatures achieved makes the Amicus Altus especially useful as a direct low carbon replacement for gas boilers in buildings with high hot water demands without the need for a substantial remodelling of the heating and/or hot water systems.
This makes the new range a valuable addition for specifiers looking for solutions that support net zero carbon strategies and help to reduce energy bills without major upfront capital costs.
The new range also operates with the very low global warming potential (GWP) refrigerant R290 (propane), which is one of the most climate-friendly refrigerants on the market. It has a GWP of just three compared to the popular traditional alternative R410A which is typically used in this type of application and has a GWP of 2,088.
R290 also has an ozone depletion factor (ODP) of zero and, according to the Intergovernmental Panel on Climate Change (IPCC), its GWP over a 20-year period remains below one – making it more environmentally friendly as a refrigerant than carbon dioxide (CO2). It does not contain any poly-fluorinated chemicals (PFAS) which are now subject to stricter restrictions in the UK and Europe.
Future proof
By going with this non-HFC 'alternative' refrigerant, Lochinvar has produced a future-proof solution that is in step with the latest UK regulations which require the industry to move away from higher GWP substances.
Under the current phase down timetable, the UK is looking to eliminate fluorinated gases (f-gases) from most heat pump applications by the end of the decade. This is in line with the European F-Gas Regulation that the UK continues to mirror despite its departure from the European Union.
The Altus units are also fully cascadable with outputs from 88 to 880kW and deliver an impressive Coefficient of Performance (CoP) of up to 5.5 – seasonal COP is around 3.95. They can also operate in heating mode down to external air temperatures as low as -20°C.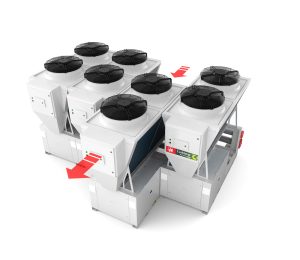 With built in controls and BMS fault and remote on/off signal that prioritises hot water production this small footprint unit is easy to install and commission – and is supported by Lochinvar's offer of free site visits for every installation.
"We are delighted to be bringing such an impressive step forward for heat pump technology to the market," said Lochinvar's product engineer, Steven Hunt.  "Air-to-water heat pumps are generally highly energy efficient, but the Altus also delivers hot water temperatures comparable to those end users are used to with conventional gas boilers.
"This, allied to the low GWP and zero ODP factors, make them an attractive choice for anyone specifying a retrofit project with high performance and low environmental impact in mind."
Air-to-water heat pumps can be integrated into a variety of heating systems, which makes them a flexible option for different types of buildings and installations – and although the initial installation cost will be higher than for a gas boiler, the long-term savings are potentially far greater and the building's carbon footprint substantially reduced.
This new product follows last year's launch by Lochinvar of the UK's most powerful heat pump water heater the Amicus Aquastore.
It has an output of 8kW and 455 litres of hot water storage capacity in a compact monobloc package combining heat pump and storage vessel, and can deliver up to 65degC hot water in both efficiency and hybrid modes and up to 490 litres in a peak hour with a 50degC temperature rise.
Popular
The Aquastore and now the Altus are the latest additions to the extensive and popular Amicus range of air source heat pumps (ASHPs) which includes models delivering domestic hot water capacities from 7.7kW up to 210kW for a wide range of projects including large residential; medium and large commercial; and industrial applications.
"Heat pumps are playing an increasingly important role in helping the UK transition to low carbon heating and the Amicus Altus is just the latest in a line of innovations designed to make the technology available to the widest possible range of users with minimal disruption to the existing building services," said Hunt.
"As well as our on-site support and technical back-up, another benefit to our customers is that Lochinvar can provide all the components needed to provide a complete low carbon system with heat pump technology at its heart. This considerably simplifies the specification, design, and installation process," he added.
Do you have a project you would like to discuss with us? If so head over to our Sales Team contact page to get in touch with your local Area Sales Manager.