Lochinvar cleans up at Stadium MK
Key equipment supplied
2 x EcoSword LGC285-560GCE gas-fired condensing water heater
Project details
Dedicated water heaters for newly-created in-house laundry facility
Description
Banbury-based manufacturer Lochinvar has supplied two high efficiency gas-fired EcoSword® water heaters to the DoubleTree by Hilton hotel, which forms an integral part of the multi-sport Stadium MK in Milton Keynes – home of the MK Dons Football Club and the Marshall Arena.
The stadium was opened by the Queen in 2007 and has seating for more than 30,000 spectators. The DoubleTree hotel opened two years later and, as well as including rooms with spectacular views of events in the stadium, hosts conferences and other functions.
The Lochinvar fully condensing, low NOx storage water heaters were installed by the contractor Professional Energy Solutions to provide a dedicated hot water system for the DoubleTree's new in-house laundry facility.
Previously, the 304-bedroom hotel outsourced its laundry services, but now expects to achieve considerable cost savings and reduce its greenhouse gas emissions by keeping the service on-site and using high efficiency technology, like the EcoSword water heaters. As a result, the investment in the new laundry is expected to pay back in less than 18 months.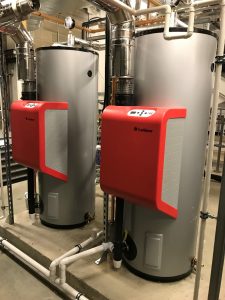 Rapid
EcoSword water heaters are available in nine models with storage capacities ranging from 163 to 388 litres and rapid hot water recovery rates from 210 to 540 litres per hour based on a temperature rise of 50°C. This makes them an excellent cost-effective option for end users looking to use condensing technology in small and medium-sized hot water demand applications.
The 'cold zone' heat exchanger design ensures that the unit operates in condensing mode for as long as possible and, along with its fully modulating pre-mix burner, this means it achieves seasonal efficiencies of up to 98.2% (Building Regulations) and water heater efficiency of up to 94% (ErP). All models are WRAS certified and 'A' rated under the ErP Energy Labelling legislation.
Improving air quality is also an increasingly important consideration for clients like the DoubleTree hotel and the EcoSword boasts extremely low NOx emissions of under 37 mg/kWh across the range.
The units are compact enough for installation in the most restricted spaces and all of the components can be accessed from the front of the unit to make maintenance easier. EcoSword's storage vessels are built from enameled steel and are supported by a three-year warranty.