EcoCharger water heater provides hot water and space heating for Camberley Cricket Club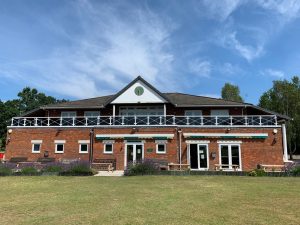 Key equipment supplied
Heatpak 40kW space heating module
Project details
Replacement of 20 year-old Lochinvar Charger Water Heater with upgraded high efficiency EcoCharger condensing model. The Heatpak module, which uses hot water generated by the EcoCharger water heater, has replaced an aged cast-iron boiler
Description
Cricket has seen in a surge in popularity across the UK since the dramatic events of the Cricket World cup in July 2019, with England being crowned world champions after a thrilling final against New Zealand. The sport has been a passion at Camberley Cricket Club for a long time; and 2019 saw the club celebrating its 75th anniversary, having been formed in 1944 to provide cricket for servicemen returning from the Second World War
These days the club runs three Saturday teams, a Sunday XI and a thriving junior section of more than 150 girls and boys. It also hosts county matches for over 50's. The clubhouse facilities include changing rooms, bar, kitchen and function room, which the club lets out to local community groups throughout the week for a range of functions
During the early part of 2019, as the result of continuing breakdowns the club decided to update its heating and hot water system, which comprised a floor standing gas-fired boiler and a Lochinvar Charger storage-type gas water heater. The Charger water heater had provided a reliable supply of hot water for showers, kitchen and various other hot water outlets for 20 years, and the gas-fired boiler was of a similar age.
The club's committee made the decision to replace both boiler and water heater and obtained a number of alternative proposals. Major considerations included reliability and environmental impact such as carbon emissions and operating efficiencies.
Lochinvar proposed an EcoCharger gas-fired condensing water heater, together with a Heatpak space heating module, which would mean the club had the benefit of hot water and heating from a single high efficiency product. This solution proved attractive to the committee who gave it the go-ahead.
New Plant Room installation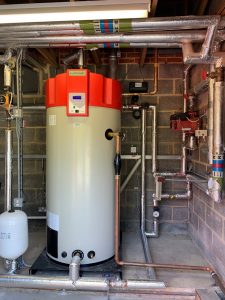 Club chairman, Keith Halsey, explained that the previous Lochinvar water heater had provided a reliable hot water supply over many years, and this played a part in their decision to use Lochinvar products again. Fuel efficiency and environmental matters were other key considerations.
"Our previous experience with Lochinvar had been very positive so they were a strong candidate to be our supplier of choice," he said. "An action plan was agreed and we were impressed with the details and timescales provided.
"The equipment was installed slightly later than scheduled primarily as a result of the contractor's workload at the time, however the equipment was up and running by late summer 2019. Commissioning was also delayed, but eventually completed after installation contractor KV Cooling Services and Lochinvar worked together to overcome some teething problems."
EcoCharger water heaters are available in eight sizes with hot water outputs ranging from 540 to 2100 litres per hour, based on a temperature rise of 50ºC. EcoCharger water heaters make use of condensing technology, which helps to achieve high operating efficiencies. They are designed along the principles of low storage, but fast recovery of hot water. This means they are capable of meeting high peak hot water demands, such as from showers at the end of a match. The low storage helps to conserve fuel during periods of lower hot water demand.
The Heatpak space heating module is an ancillary option available with the EcoCharger range and can provide up to 40kW of low temperature hot water for underfloor or radiator heating circuits.  Heatpak is a particularly suitable option for applications like local sports club facilities, where there is peak demand for hot water, but lower constant space heating demand. The use of such a combined hot water and heating system can also save valuable plant room space.