We are delighted to announce that Niall Higgins has moved into the role of Area Sales Manager – West Midlands.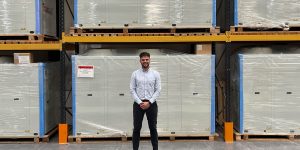 Niall has been with Lochinvar since 2013 where he joined the company as a newly qualified, field-based Service Technician. In 2021 he moved into an internal technical support role at our Banbury HQ.
Commenting on the appointment, Dave Slevin, Northern Regional Sales Manager at Lochinvar said; "Something we love to do at Lochinvar is offer growth and development opportunities internally. Niall has a decade of experience working in a hands-on way with our products and customers and has an excellent reputation in terms of product knowledge and customer care. It is a pleasure to welcome Niall to the Northern Team and I am excited to see what the future holds".
When asked about his new role Niall said, "First of all I want to say a huge thank you to my colleagues at Lochinvar for their help, guidance, and support over the last ten years. Taking on the role of Area Sales Manager – West Midlands offers a new challenge within the same supportive environment, and I can't wait to get started!"
As Area Sales Manager for The West Midlands, Niall will cover; B,WS,WV,DY,WR and CV postcodes.
If you would like to get in touch with Niall you can reach him on 07966 288 780 or nhiggins@lochinvar.ltd.uk.