The 1st November marked 20 years at Lochinvar for Martin Ebdon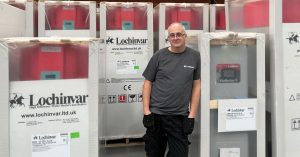 Having started his career in the industry in 1987 as an apprentice for a commercial mechanical engineering firm Martin learnt a variety of key skills that would serve him well on his career going forward.
Following some time as a commercial heating and plumbing engineer he joined Lochinvar in 2002 as a Service Commissioning Engineer.
During his ten years in that role Martin covered the length and breadth of the UK visiting customers to ensure their equipment was working as it should.
Following ten years on the road Martin came off the tools and worked within the Product Management division of the business. In 2014 he joined the Technical Support team as Principal Technical Support Engineer.
When asked to reflect on his time at Lochinvar so far Martin said;
"Over the last 20 years I have seen a lot of technologies evolve. Key developments include seeing the transition from pilot units to auto ignition as well as the introduction of condensing technology, where water heaters and boilers became software driven.

As the industry has continued to move with the times the introduction of renewables, solar thermal and heat pumps have also been fascinating developments as we move towards a more sustainable future. It's great to be part of a business that has the knowledge and agility to adapt and move with the market in an innovative and sustainable manner.

Lochinvar have many long standing members of staff which is testament to the type of place it is to work. I would like to take this opportunity to say a huge thank you to our customers and my colleagues for making my time at Lochinvar so enjoyable. Here's to many more years!"
Whilst we aren't currently recruiting for roles we are always on the lookout for talented individuals to join the team. If you are interested in furthering your career within the HVAC/HVAR industry, please send your CV to Claire Jerome at cjerome@lochinvar.ltd.uk.