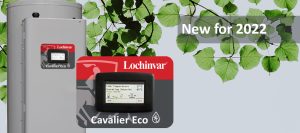 Lochinvar has upgraded its range of high-performance electric storage water heaters for commercial and large residential applications.
The Cavalier ECO floor standing range comprises seven models all of which meet the requirements of the EcoDesign (ErP) directive and can operate at working pressures up to 8 bar with storage capacities of 173 and 264 litres.
They have been designed to meet growing demand for all-electric hot water solutions that produce zero on-site carbon emissions in line with the UK's Net Zero targets.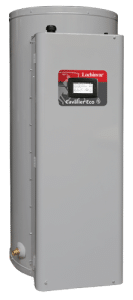 These fully packaged water heaters represent a significant advance for this type of technology because they feature factory-fitted multiple immersion elements for rapid hot water production. This ranges from three 3kW elements in the lowest output model (9Kw) up to nine 6kW elements powering the highest output (54kW) water heater, which can provide hot water recovery rates from 155 to 930 litres per hour, based on a temperature rise of 50°C.
Cavalier ECO water heaters also work seamlessly with heat pumps when installed as part of a 'hybrid' system. As this approach produces zero carbon or NOx emissions on site, they are fully BREEAM and 'London Plan' compliant.
The immersion elements operate in sequence to provide fast recovery of hot water and better efficiency, especially during off-peak demand periods. The independent operation of each element provides stand-by in the unlikely event of any individual element failure for extra peace of mind.
The enamelled steel storage vessels include an integral magnesium anode for cathodic protection to maintain the integrity of the units over long-term operation. They are insulated with 65mm polyurethane foam and encased in an enamelled grey jacket to ensure heat losses are substantially lower than the standard required by the newly revised Part L of the Building Regulations.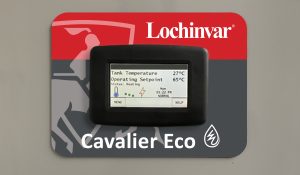 The Cavalier ECO range is designed for ease of maintenance with all the electrical components accessible from the front of the unit. They feature a built-in control system that enables each installation to be customised to meet its specific operating conditions and a 'live' fault reporting system to speed up repairs and reduce downtime.
If you would like to learn more about the Cavalier ECO get in touch with your local Area Sales Manager.