Renewable Solutions for Great Western Arms
17 October 2008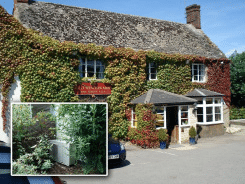 A traditional Oxfordshire pub and restaurant can offer a warm welcome in more ways than one thanks to an environmentally-friendly heating system from water heater and boiler manufacturer Lochinvar.
The Great Western Arms at Aynho near Banbury recently added five bedrooms as part of a major refurbishment. This work included the upgrade of its heating and hot water systems, replacing the old cast iron boiler and indirect hot water cylinder, with modern, high efficiency equipment.
Hot water for the Hook Norton Brewery-owned pub is now provided by an air source heat pump working in conjunction with a Lochinvar EcoForce+ gas-fired condensing water heater, running on Calor LPG.
The heat pump converts the ambient outside air into hot water, which is used to pre-heat the feed water to around 40°C and at this temperature the heat pump operates with a COP of 3:1. In other words, for every kW of heat input, the heat pump generates 3kW of output. The EcoForce water heater then raises the temperature to the required 65°C, but savings on LPG are achieved due to the feed water being pre-heated.
Space heating for the new bedrooms and the existing pub/restaurant is provided by a traditional radiator system and a Lochinvar CP-M 60 boiler. Control options are one of the significant features of this product and on this project, the EBC controller was used, which allows for 'zoning' of different areas of the premises and enables the boiler to operate at its highest efficiency.
David Pepper, managing director of Lochinvar, said: "The air source heat pump/water heater package is a really good solution for commercial applications like the Great Western Arms. Combining the use of the low carbon heat pump technology, a condensing gas-fired water heater has provided an efficient, environmentally friendly solution, without compromising hot water supply. The use of separate plant for space heating and hot water is widely recognised as good practice in terms of energy conservation and this has also been achieved on this project."
Banbury based Chartered Interior Designers, David Moore Associates, developed the overall refurbishment scheme for their client, Hook Norton Brewery, and they were keen that the design should be environmentally friendly. "We are delighted that Lochinvar has been able to bring its specialist knowledge and advice to this project by designing and supplying the energy efficient water heating installation, contributing to the overall improvement made in the energy efficiency of this facility," said David Moore.
The Great Western Arms is a traditional, canal side pub which also has an excellent reputation for its restaurant. As well as being popular with local people, it also attracts visitors from London and the south east.
About Lochinvar
Lochinvar products were introduced to the UK in 1976 and have been supplied for numerous industrial, commercial and large domestic applications over the last 32 years. The company is a subsidiary of Lochinvar Corporation based in Nashville, USA, and designs, manufactures and distributes a comprehensive range of high efficiency gas fired water heaters and boilers. In addition to EcoForce, EcoKnight boilers and water heaters are also recent additions to the product range, which now comprises a most versatile and flexible portfolio of gas-fired condensing boilers and water heaters. Lochinvar also offer bespoke renewable packages combing direct gas-fired water heaters with solar thermal systems and air source heat pumps.