Air source heat pumps
Air source heat pumps packages offer an ideal solution for building owners who wish to reduce their carbon footprint without compromising the hot water supply.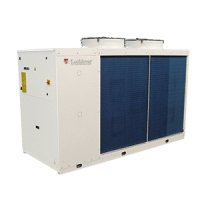 View details
Gas absorption heat pumps
Delivering space heating and hot water to commercial buildings at extremely high efficiencies. Gas absorption heat pumps contain technology for another step forward in efficiency when compared with more traditional electrically driven equivalents.
Solar thermal
As a renewable technology Solar energy can provide up to 50% of a building's hot water demands, and Solar Thermal installations have proven to be popular on both new build and refurbishment projects. It is equally important to consider the primary method of providing hot water, whether that be gas-fired condensing water heaters or an indirect system. Solar Thermal systems, when installed in conjunction with a primary method of hot water generation are suitable for a range of commercial and industrial applications.
Thermal store & Preheat vessels
In order to make use of the renewable energy generated from sources such as Solar Thermal and Heat Pumps, either a Thermal store or preheat vessel is required. Our Squire and Squire stainless indirect water heaters can be used to store preheated water which in turn is then supplied to the primary water heating method. Thermal stores can also be used for this purpose and our award-winning HSV range, can work with up to 3 energy sources.